One of the most talked about event of the Amsterdam Capital Week for sure was Angel Island, a mysterious 'curated unconference' aimed at founders and angels. Did it deliver?
For an event on the island of Pampus, logistics can be a pain in the ass. Because boats. But all went relatively well and before we knew it we were on one, sailing with the sun in our eyes and cold beer and wine in our hands. Now that's a start.
On the 1.5-hour boat trip there were introducing rounds and teams were challenged to make their own flag. Everyone just really felt comfortable talking to each other. And when Pampus came in sight, you could clearly feel the excitement. Because of the program was secret, no-one knew what to expect. Is it like Burning Man? Do we get to play hide and seek? A festival of music and creativity?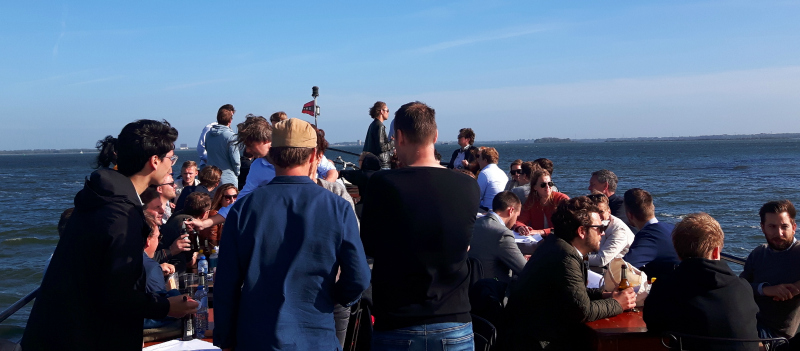 Upon entering the island, the welcoming drums sure gave you the feeling something special was ahead. The organization immediately stated two rules: 1. No pitching. 2. Don't be an asshole. Obviously rule #1 was destined to be broken.
Ok, so let's get this party started, right? Well… if you mean workshops that is.
Matchmaking
Still in the boat vibe, people attended the workshops with enthusiasm. The fort had so many passages, secret rooms and ambient lights that you can easily get lost and wander around (which is a good thing).
Obviously aimed at learning from one another and helping each other, I got the idea founders and angels finally found a setting where they connected. I even heard a founder say he normally didn't like the forced matchmaking, but in this setting, he felt comfortable doing it and had fun doing so.
My spoiled mind had expected a bit more of using the venue. As Angel Island marketed itself as an unconference, why so serious in the workshops? Where's the 'playground'?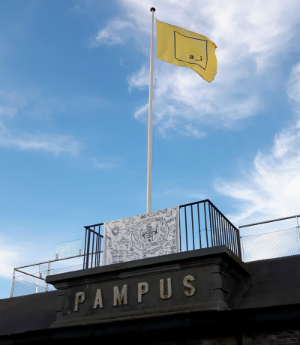 But, I must say, it wasn't really necessary. Angel Island did what it had to do for angels and founders – and that's connecting them. The volunteers from the Dutch startup community really felt what needed to be done here, and they did so excellently. Being 'stuck' on a boat and on an island just gets people to talk to someone new. I sure loved to network here. Finally, a bottom-up, community-driven matchmaking event again.
For founders, there were a lot of familiar faces. For (first time) angels, the event gave a nice insight in the Dutch startup scene.
Never a dull moment
After the workshops it was dinner time in a bar setting. I think we can all say that needs to be done better next time, as it wasn't clear where and how to get it. But after a while, people found out where to stand strategically and just take whatever flew by. Also, I wasn't sure everyone could join the second boat to the main land, as it was full in no-time.
So the day ended like it started: a bit chaotic but never dull. The event might have even peaked too early. Luckily the vibe never felt forced. It was a great baptism for an event that definitely can become the Holy Grail of startup/angel matchmaking and networking. A great addition to the startup scene in The Netherlands!
Main image: blickpixel @ Pixabay Photos in article: StartupJuncture (CC BY-NC 4.0)